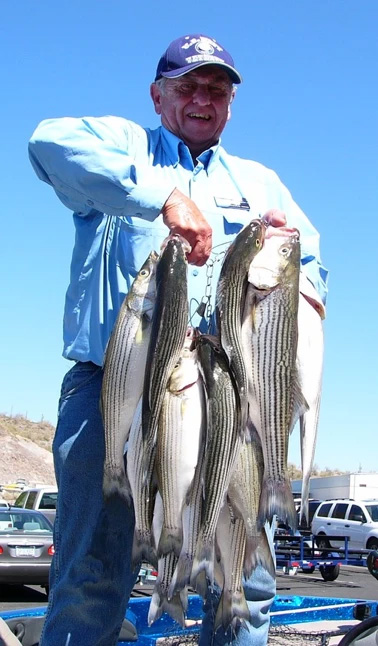 Contact Mike directly at (602) 370-8058
About Mike Strole
Hi, my name is Mike Strole. I am the founder and owner of AZ Great Adventure Fishing Guide Service and Fishing Guide Arizona.
I've been fishing since I was four years old. Both of my grandfathers were avid fishermen and so was my dad. So, it is easy to see why I have developed such a passion for fishing and the great outdoors. I won my first fishing tournament at the age of seven and have been hooked ever since.
We moved to Arizona from Illinois in 1958, and since then, I have had the opportunity to fish all over the state of Arizona and learn from some of Arizona's best fishermen.
I graduated from Grand Canyon University in 1971, with a Bachelor of Science Degree in Education. I then enlisted in the United States Navy to serve my country. I became a Flight Systems Emergency Procedure Instructor, training pilots that flew, F-4 Phantom fighters, their weapon's capabilities and emergency procedures.
During this time, my unit at Naval Air Station Miramar, had the responsibility of training the United States Navy Pilots in the F-4 Squadrons, the Navy's Blue Angels, and the Air force's Thunderbirds. In addition, we were also responsible for all training of the F-14 Pilots including: those in the Top Gun Program.
I returned home in August of 1975, where I accepted a teaching position with the Peoria Unified School District. During this next 35 years I hunted and fished all over the state of Arizona.
During my career in the Peoria Unified School District I achieved Career Ladder Level V (Master Teacher) and was honored to be selected as a member of the "Who's Who of America's Teachers." I also have the honor of serving as a Chaplain, at my church.
I began taking friends fishing in 1978 and found it extremely rewarding to be able teach and mentor other fishermen and witnessed their joy and excitement as they reeled in fish after fish.
I began teaching Outdoor Education and Fishing Arizona courses for the Peoria School Unified District in 1985. During this time my sponsors included: Cabela's, Fishermen's Choice, Sportsmen's Warehouse, K- Mart's Sporting Goods, Fry's Food Stores, Pizza Hut, and Nick's Pizza. Upon retirement, I was encouraged by friends, fellow fishermen, and my family to start a Fishing Guide Business.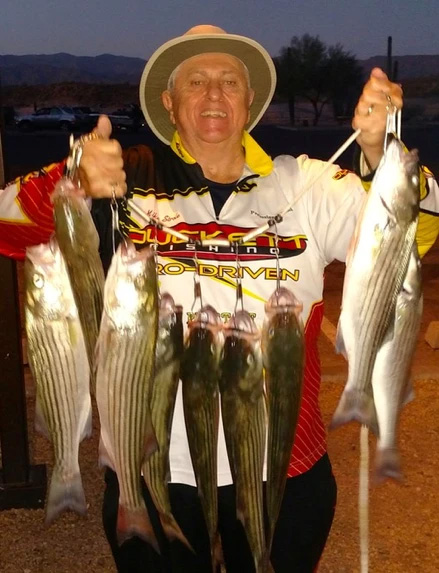 Upon retiring in 2010, I founded AZ Great Adventure Fishing and have taken clients of all ages and skill levels fishing all over the state. Since opening my business.
I have worked with Cabela's Fishing Department, Marine Department, and Boat Sales Department as a consultant, vendor, seminar instructor, and doing community and public relations presentations with and for Cabela's.
I have enjoyed working with beginning, intermediate, and advanced anglers to help them equip and prepare for upcoming fishing trips and tournaments, rig and make boat purchases.
My instructional seminars focus on fishing techniques, equipment selection, and seasonal patterns for Largemouth Bass, Smallmouth Bass, Stripers, White Bass, Crappie, and Trout.
My seminars have also been hosted by Cabela's, HON – DAH Casino Resort and Convention Center, Sportsmen's Warehouse, local Sportsmen's Groups and Fishing Clubs, and church groups in the valley and around the state of Arizona.
I have also been blessed to have been selected to be a part of Duckett Fishing's Pro Staff because Boyd Duckett and his staff make some of the finest quality rods and reels in the fishing industry.
I know because I have used them and have been impressed with hook setting ability and sensitivity.
In addition, I was also blessed to have been a featured guest for Channel 3, Maricopa County Parks & Recreation on a live segment promoting "Fishing On Lake Pleasant." In addition, I have been a featured guest a number of times on Fish Talk Radio Station which has over 500,000 subscribers.